| | |
| --- | --- |
| Diana Mudadalam | Country Head of Corporate Affairs Standard Chartered Bank |
| Indrijati Rahayoe | Chief HR Officer Prudential Life Assurance |
| Mutia Rini | Senior Marketing Manager Shell Indonesia |
Event Info
The BritCham Indonesia Professional Women's Group held its first ever webinar entitled "Women and Realizations in the "New Normal" Beyond COVID-19" on Tuesday, 12 May 2020. The session was moderated by Sony Jethnani (CEO of Sony Jethnani Consulting) and featured three amazing women in business, namely Diana Mudadalam (Country Head of Corporate Affairs of Standard Chartered Bank), Indrijati Rahayoe (Chief HR Officer of Prudential Life Assurance), and Mutia Rini (Senior Marketing Manager of Shell Indonesia). With over 130 registrants, the session aims to connect and uplift women in business through inspiring and sharing with one another.
Topics discussed in the session included how to manage routine and activities during the pandemic, how to cope with these trying times, as well as what their respective businesses have been doing during and in response to the COVID-19 crisis. Questions from the attendees were also addressed, which covered themes such as precautions that should be done should one require medical help, taking care of one's psychological health, and business marketing strategies during the pandemic. The discussion covers both professional and personal aspects and enables all participants, panelists and attendees alike, to learn from and support each other during this difficult situation.
We would like to thank Ibu Sony, Ibu Diana, Ibu Indri, Ibu Muti as well as all the attendees for attending this webinar. BritCham Indonesia is committed to offering relevant webinars aimed at providing solutions to problems faced in this current crisis.
Event Impression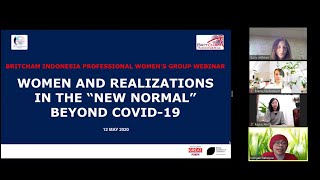 Webinar
Women and Realizations in the "NEW NORMAL" Beyond COVID-19