Event Info
DN Colleges Group is a major education provider in South Yorkshire, Greater Lincolnshire, and the Humber Region, incorporating Doncaster College and North Lindsey College. Every year, they inspire thousands of students to develop skills that will help them reach their full potential.
Through collaboration with BritCham Indonesia, they secured Turing Scheme funding from the UK government enabling students for international mobility and broaden their horizons for their future careers. A group of nine students and two tutors were having the amazing opportunity to visit Indonesia from 18th June – 2nd July 2023. They come from Business, Travel & Tourism backgrounds. The main agenda was to visit the country's renowned companies who are primarily BritCham's members to get in-depth knowledge and understanding of the Indonesian approach to business.
Their visit has been warmly welcomed by the companies and the students also had the chance to learn from the experts, see firsthand how the operational work of multiple industries, and visit their sites. Various industries were explored such as:
Airline industry (Cathay Pacific Indonesia)
Automotive and manufacturing industry (PT Dharma Polimetal Tbk)
Banking industry (Bank HSBC Indonesia)
Logistics and relocation (PT Kellys Express)
Oil and gas industry (PT Shell Indonesia)
Real estate and property management (PT Jakarta Land)
Renewable energy (National Battery Research Institute)
Retail (PT Matahari Department Store Tbk)
Tourism and hospitality industry (Mandarin Oriental Hotel Jakarta)
Trade and investment (BritCham Indonesia)
BritCham Indonesia would like to express our heartfelt gratitude to all the esteemed companies and institutions that have given invaluable knowledge, expertise, and life-changing moments to the students.
During their visit, BritCham Indonesia had the privilege of providing comprehensive assistance in planning, coordinating, and fulfilling all the requirements of the group, including meeting arrangements, transportation, accommodation, and more. If you have any specific needs or would like to tailor a program like the one mentioned above, or if you are interested in gaining deeper insights into Indonesian market opportunities, we encourage you to reach out to us at businesscentre@britcham.or.id. Our dedicated team will be more than happy to assist you.
To hear what DN Colleges Group has in mind about the visit programme, kindly watch the testimonial below: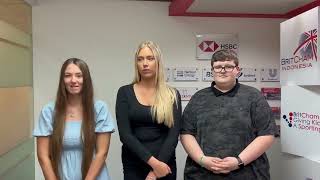 Event Impression