| | |
| --- | --- |
| Peter Webb | Head of International Tax at The Fry Group |
Event Info
[BRITCHAM INDONESIA TAX ROUND-TABLE WITH THE FRY GROUP FOR BRITISH EXPAT TEMPORARILY RE-POSITIONED | 5 MAY 2020]
BritCham Indonesia held a tax round-table discussion with our corporate member, The Fry Group, on Tuesday, 5 May 2020. This interactive discussion was especially for international expatriates temporarily re-positioned from Indonesia during this pandemic, and featured Peter Webb, the Head of International Tax at The Fry Group.
The relaxed but highly insightful discussion was focused on addressing important issues that all British expat should be aware of, such as taxation, land and property concerns, as well as the UK Government's advice regarding the pandemic. Further questions by the meeting participants in regards to what is best to do at this current situation were also discussed.
We would like to thank Peter Webb, The Fry Group, and all the attendees for attending this discussion. BritCham Indonesia is committed to offering relevant webinars and programs aimed at providing solutions to problems faced in this current crisis.
Event Impression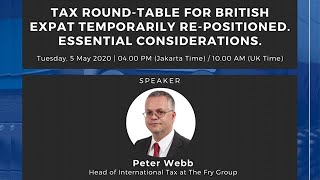 Webinar
Opportunities in Technology and Digital Sectors