| | |
| --- | --- |
| Wijayanto Samirin | Senior Economic Advisor to the Governor of Jakarta |
| Dimitris Kostianis | Managing Director PZ Cussons Asia |
Event Info
On Wednesday, 6 May 2020, BritCham Indonesia is proud to have hosted the webinar "DKI Jakarta Takes on COVID-19; Business Communities Have Roles and Responsibilities" featuring Wijayanto Samirin, the Senior Economic Adviser to the Governor of Jakarta and Dimitris Kostianis, Managing Director of PZ Cussons Asia. This webinar is proudly supported by British School Jakarta and JIIPE, and was an interactive session with over 60 attendees.
The session began with a presentation by Pak Wijayanto on the overview of the COVID-19 situation in Jakarta. This included a detailed explanation on the government initiatives in response to this problem. Then, Dimitris shared on how his company has responded to the Government guidance on supporting the community during these hard times. Questions from the attendees as well as other concerns such as sourcing of medical facilities, health and safety regulations in companies in regards to the COVID-19 crisis, as well as continuity of education during and after the pandemic.
We would like to thank Pak Wijayanto Samirin, Dimitris Kostianis, British School Jakarta, JIIPE and all the attendees for attending this webinar. BritCham Indonesia is committed to offering relevant webinars aimed at providing solutions to problems faced in this current crisis.
Event Impression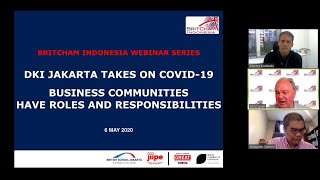 Webinar
Opportunities in Technology and Digital Sectors