Exclusively for non-resident businesses seeking to deepen their experience without burdensome legal and financial commitments.
The BritCham GUARDIAN INTERNATIONAL MEMBERSHIP has many attributes similar to an incubation scheme. It is for businesses that know they want to take next steps, want and need to show market commitment to local stakeholders.
We call it the GUARDIAN membership because, put simply, we take you by the hand and act as your guardian in market. You can use our address, use our office, we can advise on recruitment and payroll, handle manpower issues, give you prominent branding and profiling, invite your stakeholders to special events, manage your marketing and promotion events, support you with essential regulatory intelligence, set up expanded visit programmes, secure your business visit visas and deeper dive on market research for you. We fully take care of your needs while you gain risk-free practical in-country experience.
For one year*, we take away all the headaches associated with international business development. That means your decision to begin to grow your business in Indonesia becomes an easier one.
All at an affordable investment that can be planned for half-yearly or quarterly.
Guardian Memberships can be tailored but are strictly for qualifying BRITISH companies.
Benefits* :
Homepage of our website
Logo displayed in the BritCham lobby
Special company profile positions
One -page advertisement in the AGM Handbook
Free admission to all Global Partners & Intelligence Series events
One standard event management service per annum
Non-accredited translation services
2 -hours per month of executive mentoring or meeting accompaniment
Allocated to a Board member 'buddy'
Sourcing and fixing 3 bespoke meetings per quarter
Priority hot -desking
Personnel legalization.
Sponsored business visas for qualifying management /executives
Free land-line, national cell-phone calls
Personal assistant services
Free use of webinar facilities
Free use of meeting rooms.
An option of fixed office space
* Terms and conditions apply, charges can vary
Guardian International Membership
An easy next decision to making the right decision to unlocking the door to your future in ASEAN.
Check this video to found out more on the membership program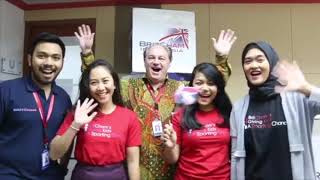 Under limited acceptance and by consultation with our Executive Director Contact Chris Wren NOW- ceobritcham-GIM@britcham.or.id
Patron & Sustaining Sponsors